Monday, May 14, 2018
|
Virginia Beach, VA
On May 11th, Michael Gelardi was presented with the Mirian Award for distinguished service to the Star of the Sea Catholic Church and School located in Virginia Beach.  Mike has spent the last three years serving as their pro bono Construction Manager providing guidance, management and oversight over a range of projects including repairs, renovations and completion of a new addition to the school. 
He wrote and managed their contracts, served as Project Superintendent, managed the budget, and coordinated projects with church and school leaders to minimize impact to operations.  His efforts saved many tens of thousands of dollars while ensuring high quality along the way - and serve as yet another incredible example of his humble servant leadership.
We are lucky to have Mike's leadership and expertise on our team for over 40 years, and very proud of his involvement with the community and the lasting positive impact he continues to make for others.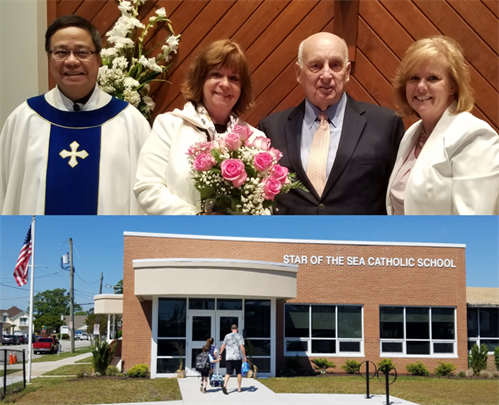 Pictured Top L-R: Father Steve, Susan Gelardi, Michael Gelardi, Principal Carey Averill
Pictured Bottom: Star of the Sea Catholic School - New Addition