Monday, June 25, 2018
|
Virginia Beach, VA
In search of the state's top CFO's, Virginia Business magazine annually conducts a statewide competition and recently held its 13th annual awards ceremony.
Last year, ESG's Valerie Wilkinson, received the CFO award in the small private company division (a hundred employees or less) and this year, she participated as a judge, along with all other winners of the 2017 CFO Awards. Valerie and the other judges each reviewed all of the finalists from the nearly 50 nominations to select this year's recipients. 
Valerie and Andrea Kilmer, President & CEO of ESG, also a CFO Award recipient in 2009, attended this year's Virginia CFO Awards event. Richmond-based Dominion Energy is the only other company with two winners since the awards began in 2006.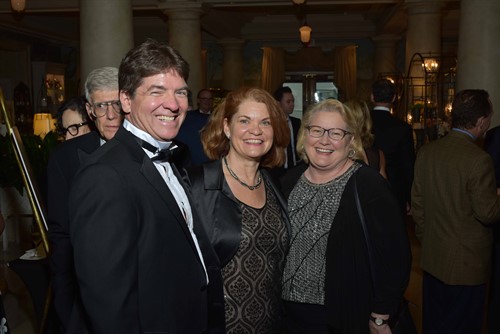 (Pictured: Brian Wilkinson, Valerie Wilkinson, & Andrea Kilmer)
Here are all the winners, announced at a dinner on June 20 at the Jefferson Hotel in Richmond.
• Small private companies: Amy Martin of American Cyber Inc. in Clifton.
• Small nonprofit organization or government agency: Andrew Haugh, CPA, of Housing Opportunities Made Equal of Virginia Inc. in Richmond.
• Large private companies: Peter Whitfield of American Systems in Chantilly.
• Large nonprofit organization or government agency: Michel Bilé of the Hampton Roads Community Health Center in Portsmouth.
• Publicly traded companies: Glenn Nunziata of Smithfield Foods Inc. in Smithfield.