Friday, October 11, 2019
|
Norfolk, VA
On the evening of Saturday, October 12th, The ESG Companies' team of family, friends and colleagues participated in the Light the Night walk in memory of its Founder and former Chairman, Eddie Garcia. The inaugural walk for the group was a special opportunity to come together to celebrate Eddie's life and impact on each other, and also show support to those who have or are fighting the disease and honor those we have lost. Through sponsorship and fundraising, the ESG team contributed more than $6,000 to the event.
"This joyous event, and our family and employee participation, is a great honor and tribute to the memory of my Father (Eddie) and if he were here he would surely smile and join us in this ongoing effort to eradicate these dreadful diseases," Edward S. Garcia, Jr.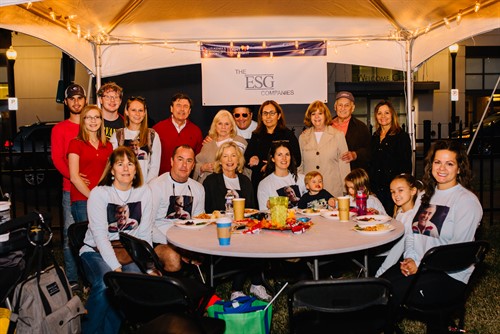 At the young age of 93, Eddie's health quickly declined, and he was found to have acute myeloid leukemia (AML) which quickly took over his body and sadly, he succumbed to. AML is a very aggressive cancer with limited treatment options. According to the Leukemia and Lymphoma Society (LLS), AML is the most common form of leukemia in adults and its one of the deadliest blood cancers with very few treatment advances over the past 40 years. Today, LLS is leading an initiative called Beat AML to identify new targeted treatment options to combat AML.
The ESG Companies is proud to support and participate in the Light the Night event and the team looks forward to continued involvement in honor of Eddie.
About Light the Night:
Light The Night aims to bring light to the darkness of cancer through research and cures. Light The Night is a series of fundraising campaigns benefiting The Leukemia & Lymphoma Society's (LLS) funding of research to find blood cancer cures. The event brings hope instead of despair by working to ensure access to treatments for all blood cancer patients.
About Leukemia & Lymphoma Society:
LLS is a global leader in the fight against cancer. The LLS mission: Cure leukemia, lymphoma, Hodgkin's disease and myeloma, and improve the quality of life of patients and their families. LLS funds lifesaving blood cancer research around the world, provides free information and support services, and is the voice for all blood cancer patients seeking access to quality, affordable, coordinated care.