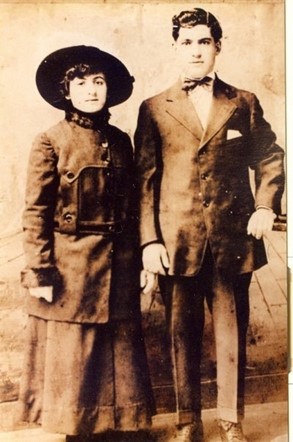 Mama's labor pains hit on Labor Day, 1925.  A midwife delivered all twelve screaming pounds of me at our modest home next to a bag company on Virginia Street (now Virgin Street) in Norfolk.  Christened Edward Salvator Garcia, I became the youngest of seven children born in ten short years to my parents Manuel and Rosa—Pete, Freddie, Mary, Donnie, Anna, and Manny before me.
Papa had immigrated to America from La Coruna, Spain at the ripe old age of twelve.
My grandfather paid off a sea captain and stowed away his young son on the next ship to New York.  There, an uncle who was a traveling merchant took in my father and raised him on turbulent seas. He labored aboard sailboats and steamboats, traveling around the world and experiencing firsthand a dizzying mix of people, cultures, and beliefs. My daddy worked hard, fought hard, and lived hard, traveling the globe three times and learning seven languages well enough to get along—all before he reached his early twenties.
Life finally brought him to dock at Norfolk, Virginia where he spied my mother, on the brink of womanhood, out tending the family garden. Her father had built a tall, wooden fence to shield his daughter from the wandering eyes of strange men. It was a good plan. If my daddy had been on the street, he would have missed her altogether. Instead, he happened onto the back porch of the adjacent boarding home just as she strolled outside. He hooted and hollered to get her attention.
She ignored him.
The owner of the boarding house, a big, brusque woman who kept tight rein on her boarders, joined my father on the porch. "You'd better hush and leave that girl alone," she told him. "She's got a strict daddy and a lot of brothers who won't take kindly to the likes of you."
"What's her name?" my father asked.
"Rosa," the woman said, "but I'm telling you, you're courting trouble."
While my daddy talked to the matron, Rosa slipped back into her home. After that, he lingered on the porch whenever possible, but failed to catch another glimpse. Work soon called him abroad. Sailing across the vast ocean, his mind repeatedly returned to the girl in the garden. I'm sure he had seen women more beautiful and exotic on his travels—equally certain that he charmed his fair share along the way—but I doubt that he ever encountered one more radiant. Mama always shone, as if all of her kindness and faith and compassion lit her up from inside.
Her innocence captured his heart.
So when Papa, an animal lover, met a man with a talking parrot at an island port, he bought the bird and hatched a plan. Months later, he returned to the boarding house in Norfolk, where he and the parrot sat sentinel on the porch. When he finally caught sight again of my mother, my daddy lifted the parrot to the top of the fence.
"Rosa, Rosa, I love you, Rosa!" the bird squawked, repeating again and again what he had practiced so diligently as they sailed across the sea. My daddy gathered the bird and returned to the porch to face her.
Mama asked how the bird knew her name, and my father had the opening he'd hoped for. He soon enjoyed chaperoned visits at her family home, much to the bewilderment of the boarding house matron.
Manuel Garcia married Rosa Bevilacqua in the bustling port city in 1915.  Life had its challenges, but for my parents—along with the growing immigrant population—the Land of Milk and Honey was full of promise and opportunity.
---