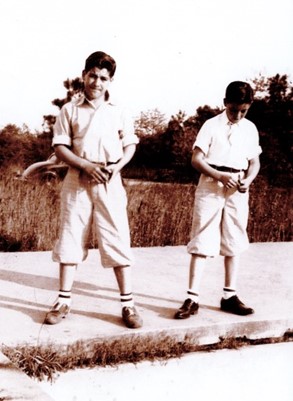 Losing the part of the king in the school play was nothing compared to the heartbreak I felt later that year when my first love, Joyce, took ill with scarlet fever.  I sat on the curb outside our apartment building, hands in my pockets, head hung low.  After several days of waiting and worrying, I wrote her a note on a torn slip of paper and wrapped it around nine cents.  I even included my lucky Indian Head penny—all the money I had to my name—and tried to slide it under her apartment door.  The lumpy message wouldn't fit, so I wadded it up and laid it out front, hoping that someone would see the token of my affection and pass it along. 
I wanted her to know that I wished her well, but I could only sit curbside and worry so long.  The weather was turning, and my friends were calling, and the whole world still waited to be explored.  We even had a special form of entertainment in the neighborhood because the Doumar brothers had relocated their ice cream shop to Monticello Avenue. Abe Doumar had created the first ice cream cone a few decades before. He had operated a successful business at the famous Ocean View Amusement Park until the hurricane wiped out most everything there.  Their new location was in town, back from the dangerous wind and waves, and thankfully within walking distance of my house.
Abe's brother, George, made waffle cones on a specially designed iron.  My friends and I would circle round the barbeque pit out front, eyes glued on George as he poured, cooked, and rolled the cones into shape, four at a time.  The smell of warm sweetness washed over us, and our stomachs churned with desire.  We prayed for a broken cone and waited like dogs for a bone.  Then every once in a while—a miracle.  "Oh, Mr. Doumar," we'd yell.  "That one broke." 
Like he couldn't see for himself.  Like we really felt bad that it had happened. 
Mr. Doumar would smile and pass the tasty pieces around.
On the hottest of days, my friends and I would wait for the ice deliveryman to clomp by on his horse and buggy, then traipse over and talk with him while he broke up the blocks.  We couldn't touch the ice on his cart—at least not while he was looking—but he let us have the chips that fell to the ground as he told us the daily news of the neighborhood.  We rubbed the scooped-up pieces on our shirts and popped them in our mouths, smiling with cool relief.
I always got a kick out of just talking to people. I liked school, but it excited me more to learn directly from those like the deliveryman or my daddy or anyone else who had experienced a unique place or event. Where had they been?  What had they been through?  Norfolk was and is a Navy town, with many residents who were seasoned travelers while I had never been far from home.  The military fascinated me.  I often sat on the small wooden porch of my buddy, Elmer Bryant's, house and listened to his daddy, a veteran, for hours. 
Mr. Bryant had been gassed in the Battle of the Argonne Forest at the end of World War I.  I hung on each word as he talked from his wheelchair, a plaid blanket draped across his legs.  The world I lived in slipped away as he spoke.  I joined him in the chaos—the surges forward, the moments of failure, the constant battle to overcome fear.  I could smell the gunpowder and the sweet, garlicky scent of mustard gas that Mr. Bryant said burned their eyes and skin.  The smell from the Manufactured Gas Company several blocks away added impact to his words.  I should have been frightened, turned off by Mr. Bryant's injuries, but I wasn't.  I wanted to charge into the trenches like he had.  I longed to be heroic and bold.
I longed for Joyce as well, but it wasn't meant to be.  I never knew if she got the money or my message. She eventually did recover, but by then, I'd moved to Ocean View, a few miles and a whole world away.  That part of Norfolk was a change in scenery and a change in life.  My family and I moved into a little two-story house that we scraped and painted together, down the road from Mason Creek where the Naval Air Station is today. We had the bay on one side and a swamp on the other.  I learned to be a beach boy instead of a street boy.  I learned to fish from inner tubes, row boats, to crab, oyster, and clam.  I became one hell of a strong swimmer.  Along with the other Ocean View boys, I climbed sand dunes, swung from oaks, and fished with nets.  It was a pretty happy life.  My brothers and I had to prove ourselves of course.  That was natural.  Moving into a new neighborhood back then, we had to win some fights to build up respect.  Luckily Papa had taught us well, and before long, my brothers and I became leaders in the neighborhood. The fight over marbles long behind us, my brother Manny and I grew very close. 
Every day in Ocean View was an adventure with my brothers and my new found friends.  We traipsed the hills of sand and pretended that we were trekking across the Sahara Desert.  We fashioned homemade hideouts in the big oak trees and created a safety spot where we could see anyone coming from all around. There were fields across the street from our house, and we'd play football and baseball, any sport really, late into the night. I loved to throw and played quarterback in football games and pitched for our makeshift baseball team. 
We ran wild and free and spent most of our time barefoot, even going to school that way for the better part of the year. Lucy Mae Holt was our principal.  She looked like a caricature in a book, tiny on the bottom and very large up top.  She had a firm, steady hand and seemed to know everything there was to know about children.  She started the Barefoot Boys Club at school because many kids couldn't afford decent shoes, and she didn't want anyone to feel ashamed because of what they didn't have.  Sometimes after school, she'd take one or two of us to Kinney's shoe store downtown and buy us tennis shoes for sixty-nine cents, and then pay for a movie and candy.  It was a hell of nice thing for her to do, but many of us would still go to school without our shoes.  Even kids with money and shoes would hide theirs so they could come to school barefoot too.  Shoeless, we felt freer, more adventurous, more alive. 
We all knew hardship during the Depression, but life wasn't about what we did or didn't have.  For my family and friends and me, it was about who we were and what we did and who we were lucky enough to love.
---